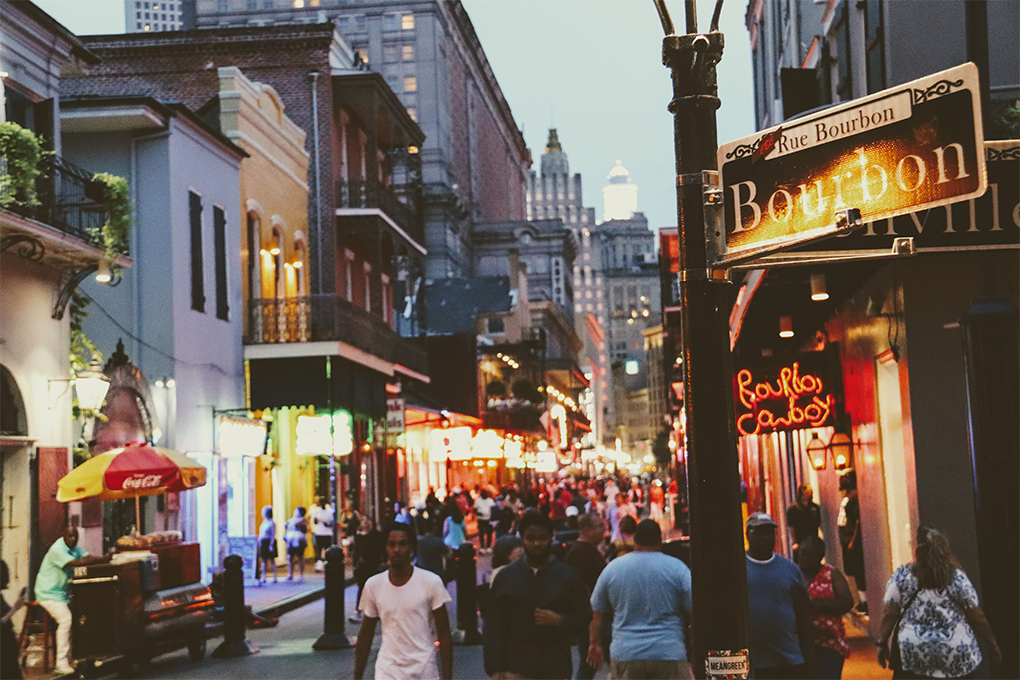 February 06, 2023
Are Delta-9 Gummies Legal in Louisiana?
Considering the ever-changing cannabis laws in the country, it is easy to lose track of what is legal or not. The burgeoning hemp industry does not make it any easier, either. All kinds of hemp products are available on demand, making it quite challenging for consumers to determine what is legal where they live. 
 Mostly though, the fact that the 2018 Farm Bill allows states to develop their own laws to govern hemp farming complicates matters even more. The result is that the use of hemp products in the country is non-uniform – what is permitted in one state may not be permissible in another.
That said, the cannabis revolution is happening, and states are softening their stance on this potentially medicinal herb. In the Pelican state, medical marijuana is legal, making it one of 41 states to legislate a medical marijuana program successfully.
Louisiana has also decriminalized the possession of small amounts of cannabis (less than 14 grams). All these developments bode well for the legality of hemp products considering hemp farming is legal in the state.  
So, if you are a resident of Louisiana and wondering whether you can enjoy Delta-9 gummies, rest easy because, yes, you can. However, there is more you should know about the legality of hemp products in Louisiana, so read on.
Key takeaways 
The 2018 Federal Farm Bill legalized hemp and made hemp-based products equally legal.

The Bill also gave states leeway to develop legal frameworks to govern hemp farming and processing.

Louisiana passed House Bill 491 in 2019 to permit hemp cultivation in the state. HB 640 fine-tunes the laws on consumable hemp products.

Consumable hemp products are regulated by the Louisiana Department of Health.

Hemp-derived Delta-9 is legal in Louisiana.
Delta-9-THC and Federal Law
The signing into Law of the 2018 Farm Bill on December 20, 2018, was a watershed moment for proponents of cannabis. It effectively made hemp an agricultural commodity, albeit with strict conditions governing its processing. It did so by redefining hemp as:
Any cannabis plant, or derivative thereof, that contains not more than 0.3 percent delta-9 tetrahydrocannabinol ("THC") on a dry-weight basis
Previous legislation, like the 1930 Marihuana Act and the 1970 Controlled Substances Act did not differentiate hemp from cannabis. So, a blanket ban prohibited anything remotely related to cannabis.
But since the 2018 Farm Bill is a federal tool designed to regulate cannabis, hemp processing is not entirely "free reign." The Food and Drug Administration (FDA) maintains oversight authority over hemp products to ensure they are safe and accurately labeled. 
An area with significant confusion regards the addition of cannabinoids to foods (e.g., gummies) and whether such foods can be marketed as "dietary supplements." 
Through the Federal Food, Drug, and Cosmetic Act (FD&C), the addition of a bioactive compound to food is illegal if such a compound:
Is used as an active ingredient in approved medications, or

Has been subjected to substantial public clinical investigations
The FDA is unequivocal that foods (including animal feed) to which such ingredients have been added cannot be traded interstate. Let's put this into context.
CBD, a hugely popular cannabinoid, cannot be marketed as a dietary supplement under the FD&C Act. That's because there is no evidence that it's been sold as a dietary supplement before the substantial clinical investigations conducted on it. 
As such, cannabinoids can only be marketed as dietary supplements BEFORE substantial clinical investigations approve them as active drug ingredients. Recent determinations by the FDA that ∆9-THC is an active drug ingredient approved under section 505 of the FD&C Act throw the marketing of Delta-9 products as "dietary" supplements into limbo.
However, federal and state laws usually differ. For example, whereas cannabis is expressly illegal under federal law, some states have decriminalized the possession of small amounts. So, what do Louisiana hemp laws say?
Louisiana Delta-9-THC Laws
After the 2018 Farm Bill became Law, it opened windows of opportunities for other states to develop legal frameworks to govern hemp production.
Subsequently, in June 2019, Louisiana passed House Bill 491, which differentiated hemp from cannabis, effectively legalizing hemp and its products. It defines hemp as:
Cannabis sativa L. and any part of that plant, including the seeds thereof and all derivatives, extracts, cannabinoids, isomers, acids, salts, and salts of isomers, whether growing or not, with a delta-9 tetrahydrocannabinol (THC) concentration of not more 0.3 percent on a dry weight basis.
In principle, the Federal and state definitions of hemp are similar, but the state-level definition is a bit more granular.  
Like the federal government, Louisiana has installed mechanisms to ensure hemp farming is not marred with malpractices. For instance, HB 491 also provides for regular pre-harvest hemp testing to ensure the THC concentration does not exceed the 0.3% cut-off point.
So hemp products that meet the specifications spelled out in the 2018 Farm Bill and HB 491 are legal in Louisiana. This essentially means you can enjoy Delta-9 Gummies (or any other edible) in the state. 
Hemp growers in Louisiana are required to work with the Louisiana Department of Agriculture and Forestry. Meanwhile, all consumable hemp products are regulated by the Louisiana Department of Health (LDH).
Here is a summary of new changes regarding hemp rules in Louisiana:
"Adult-use" hemp products must be declared "adult-use" on the label. These are hemp products with more than 0.5mg of THC.

The THC content for non-floral products may not exceed 8mg per serving.

All hemp products must be properly and accurately labeled.

Hemp products can be designated "Louisiana Hemp Products" if and only if they are grown and produced in Louisiana and registered with LDH.
These new requirements were brought into play by House Bill 640 and took effect on August 1, 2021. Another noteworthy development in the hemp space in Louisiana pertains to the permissibility of synthesized cannabinoids.
The Law under HB 640 prohibits consumable hemp products from having cannabinoids that are not "naturally occurring." On the whole, Louisiana recognizes hemp as an agricultural product with immense economic potential. In essence, this is the objective of HB 640 – to ease restrictions on economic activities relating to industrial hemp.
Is Delta-9 a Controlled Substance in Louisiana
Because cannabis is illegal in Louisiana and the entire US, the Delta-9 referred to in this case is hemp-derived Delta-9-THC. This is the primary psychoactive ingredient in cannabis responsible for the "high" users feel after taking cannabis.
Hemp-derived Delta-9 is not a controlled substance in Louisiana. That's because its primary source, i.e., hemp, is considered a legal agricultural commodity. 
The Controlled Substances Act provides a mechanism for classifying substances regulated under federal Law. These are called 'Schedules,' of which there are five labeled in Roman numerals I, II, III, IV, and V.
cannabis is a Schedule I drug, meaning it "has no accepted medical use and a high potential for abuse." But hemp is not cannabis, and the increasing use of compounds like CBD and ∆9-THC in drug manufacturing portrays it in good light.
However, a substance does not have to be controlled to be treated as a Scheduled drug. Delta-9 obtained from hemp is similar to Delta-9 derived from cannabis. It is essentially the same compound. What makes it legal in hemp is its lower concentration. 
In a nutshell, hemp-derived Delta-9 is NOT a controlled substance in Louisiana. 
Delta-9-THC Possession Limits in Louisiana
Since hemp-derived Delta-9 is not a controlled substance in Louisiana, it follows that it has no possession restrictions. This simply means you are not restricted on the amount of Delta-9 products you can own in the state.
In any case, the original intent of the 2018 Farm Bill was to prevent easy accessibility to cannabis products with high THC levels. Of course, ∆9-THC is a psychoactive cannabinoid. Taking large doses is associated with many unwanted side effects like chronic anxiety, impaired coordination, poor memory, and increased heart rates, among other symptoms.
So, it is logical that the law limits the quantity of Delta-9 available in hemp products. This is in line with the federal government's commitment to ensure Americans have access to safe hemp products whose effectiveness is dependable.
Is Delta-9-THC Legal in Louisiana
Yes, Delta-9-THC derived or extracted from hemp is legal in Louisiana. We've emphasized the terms "derived" and "extracted" to highlight a fundamental difference between them.
Though they are commonly used interchangeably, they are actually different. Delta-9 which is derived from hemp is not the same as Delta-9 extracted from hemp. Here is why.
Hemp typically contains very low THC levels. This leaves manufacturers with only two legal methods to get this cannabinoid – isomerization and good old extraction. The former entails using chemical processes to convert hemp-derived CBD into Delta-9. It is a legal method many manufacturers use to produce other rare cannabinoids like Delta-9 and Delta-10.
However, 'hemp-extracted" Delta-9 is obtained by distilling hemp extract into its constituent distillates. This method isolates Delta-9 from hemp extracts. 
With many states reconsidering their previous stands on cannabis (and Delta-9), others like Georgia and Wisconsin are leading the way in ushering in a new dispensation.
Where to Buy Delta-9 Gummies in Louisiana  
Thinking of trying cannabinoids to boost your overall health and wellness? Well, Dragon Hemp is a leading Health and Wellness brand specializing in crafting high-quality products from ingredients inspired by nature. We expertly create custom-tailored hemp products to perform a range of functions.
For example, these ∆-9 THC Chill Gummies are made with CBD-derived Delta-9 and enriched with a host of natural cannabinoids like CBD, CBC, CBDV, and CBG. They are perfect for elevating mood or getting a much-deserved chill-out after a tiring day. What's more, they come in two distinct flavors to enable you to choose the dose that works best for you!
For more information on the full range of Dragon Hemp's natural health products, click on this link and explore!
Feel like yourself again.
Peruse our collection of plant-based therapeutics blending time-honored herbal remedies with next-generation cannabinoid extracts.