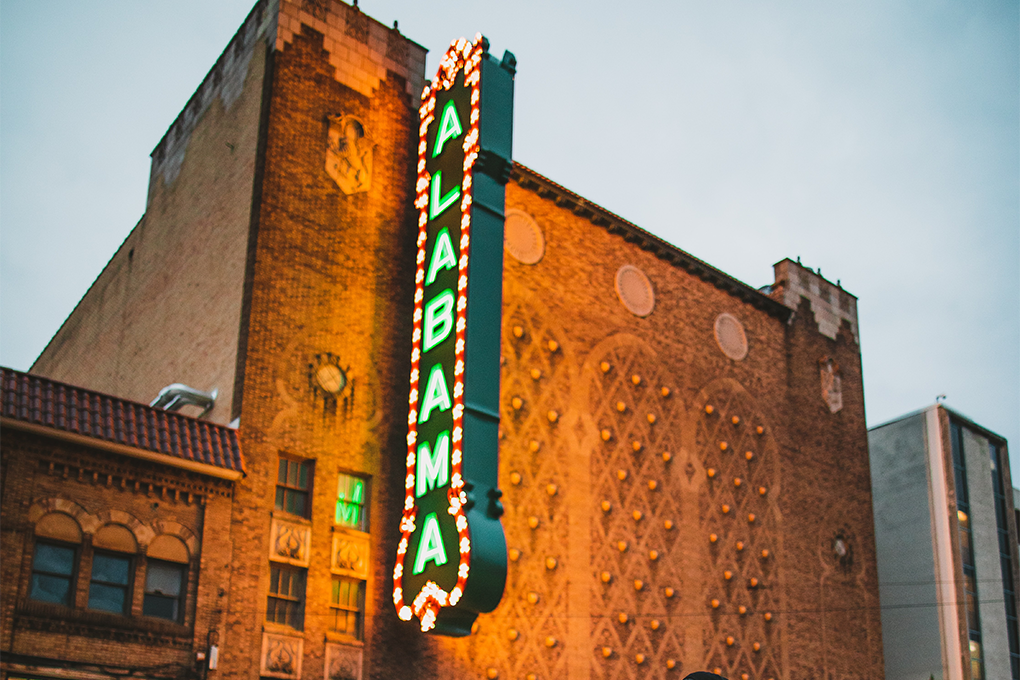 February 21, 2023
Are Delta 9 Gummies Legal in Alabama?
The state of cannabis laws in the US may still be confusing for many. Regular cannabis remains illegal in the country. However, some states have made concessions decriminalizing simple possession. 
In Alabama, for instance, recreational cannabis is prohibited, and simple possession can land you in jail. In 2021, the Alabama legislature passed a bill seeking to legalize medical cannabis for various health conditions. But residents of the Heart of Dixie may have to wait until late 2023 before they can access medical cannabis.
So, is it still possible to enjoy good old Delta 9 in Alabama without breaking the law? Yes, the 2018 Farm Bill significantly changed the cannabis landscape in the country by legalizing hemp. However, states can develop their own rules to govern hemp production and processing. 
So, even though hemp is federally legal in the US, its legality across the states is inundated with subtle differences. In effect, what is permissible in one state may be prohibited in another despite the sweeping provisions of the 2018 Farm Bill.
Against this background, we explore the status of Delta 9 gummies in Alabama. We compare what the federal and state laws say about hemp and its products and the consequences on Delta-9-THC. We conclude by telling you where to buy Delta 9 gummies in this state.
Key Takeaways
Delta-9-THC is the main psychoactive cannabinoid in cannabis but occurs in low concentrations in hemp.

Hemp-derived Delta 9 is federally legal, but its legality varies at the state level.

In Alabama, hemp-derived Delta 9 is legal with no possession restrictions.

Always buy hemp products from accredited online companies such as

Dragon Hemp

.
Delta-9-THC and Federal Law
On December 20, 2081, President Trump signed the 2018 Farm Bill into law. Compared to the 2014 version, this law was more expansive. The earlier Bill allowed hemp cultivation for research purposes only, but the 2018 Bill permitted domestic hemp farming.
However, the highlight of both laws was their statutory definitions of hemp. Both defined it as "cannabis with a Delta-9-THC concentration of not more than 0.3% on a dry weight basis," effectively distinguishing hemp from marijuana. 
In doing so, the federal Farm Bill (2018) removed hemp from the list of scheduled substances. On the other hand, marijuana is still a schedule I drug in the United States. This means the federal government deems it as "having a high abuse potential and no medical use."
The legalization of hemp, by extension, means that its derivatives and compounds obtained from it are also legal. Since hemp is essentially low-THC cannabis, it contains all the naturally occurring compounds in regular cannabis. 
These include cannabinoids such as Delta-9-THC, CBD, CBG, etc. Also on this list are terpenes, flavonoids, minerals, fatty acids, and vitamins.
Delta 9 is the psychoactive ingredient in cannabis that makes users "high." As a result, it is a highly controlled substance hence the categorization of marijuana as a schedule I substance. 
The real intention of legalizing hemp with low THC concentration is to minimize the availability of intoxicating substances to the American public. In addition to the 2018 Farm Bill, the Federal Analog Act (FAA) also reiterates the federal government's position on controlled substances.
The FAA states that "to the extent it's intended for human consumption, a controlled substance analog shall be treated, for the purposes of any federal law, as a controlled substance." Delta-9-THC derived from hemp is the exact same compound in marijuana. 
The FAA is frequently used to question the legality of other THC-like cannabinoids like Delta 8 and THCV. Indeed, it's noteworthy that some states have considered banning Delta 8 due to "insufficient research on the compound's psychoactive effects." They also argue that it's a "tetrahydrocannabinol."
However, they face staunch opposition from players in the hemp industry who reference the Farm Bill. They argue that this Bill does not address Delta-8-THC levels – an omission that allows vendors to sell the compound. 
As you can tell, laws governing hemp are in a state of flux. While Delta 9 derived from hemp is a federally legal substance, things are not as straightforward at the state level.
Alabama Delta-9-THC Laws
Alabama is the 36th state to implement a medical marijuana program in the US. There were signs that a medical marijuana program would be a reality in the Cotton State. However, only people with qualifying conditions will be eligible for this facility expected to be operational towards the end of 2023. 
But can you consume Delta 9 recreationally in Alabama without offending the law? Yes, hemp-derived Delta-9-THC is legal in Alabama. After the 2018 Farm Bill, Alabama developed rules to govern hemp farming and processing in the state.
Under Alabama Hemp Law, industrial hemp is defined as:
"All parts and varieties of the plant Cannabis sativa, cultivated or possessed by a licensed grower, whether growing or not, that contain a Delta-9-tetrahydrocannabinol concentration of not more than 0.3 percent on a dry weight basis." [Section 2-8-381]
According to this law, industrial hemp is "considered an agricultural crop or an agricultural commodity" in Alabama. This makes it legal and, by extension; 
"Any and all products made from industrial hemp, including, but not limited to, cloth, cordage, fiber, food, fuel, paint, paper, particleboard, plastics, seed, seed meal and seed oil for consumption, and seed for cultivation if the seeds originate from industrial hemp varieties." [Section 2-8-381]
As regards Delta-9-THC, SB 225 allows the use of hemp-derived products that comply with the requirements of the Federal Farm Bill. 
Is Delta-9 a Controlled Substance in Alabama?
No, Delta 9 derived from hemp is NOT a controlled substance in Alabama. This is due to SB 225, which effectively allowed the state to deschedule Delta-9-THC derived from hemp as a controlled substance. 
Also, SB 347 authorized the exemption of industrial hemp from the definition of marijuana. This explicitly excludes hemp from Alabama's list of Controlled Substances. Consequently, hemp-derived Delta-9-THC is not a controlled substance in the Heart of Dixie. 
Delta-9-THC Possession Limits in Alabama
There is no doubt that marijuana and its compounds remain illegal in Alabama. Of course, a sure way to get behind bars in Alabama is to possess illicit cannabis. 
That said, it's a different ballgame when dealing with Delta-9-THC derived from hemp. This compound is legal in the state, meaning it has no possession limits. 
However, to be certain, ensure the source of your Delta 9 is federally compliant hemp. In other words, its Delta 9 THC content should not exceed the 0.3% upper limit. 
Thankfully, there is a variety of Delta 9 products, such as gummies, capsules, pills, oils, tinctures, etc., that you can purchase. The only concern for most consumers of consumable hemp products is their safety and quality. 
Remember that the hemp industry is not strictly regulated by the federal government. So, manufacturers have free reign on what they do with their products. Be safe by buying your hemp products from accredited vendors and manufacturers. 
We emphasize the need to be keen because recent lab analysis reports do not paint a rosy picture of the goings-on in the industry. A good percentage of hemp brands are not truthful regarding the content of their products. 
Therefore, one way to assess the quality and safety of these products is by checking their certificate of analysis (CoA). These are typically issued by independent third-party laboratories after certifying that a product meets specific standards. 
Is Delta-9-THC Legal in Alabama?
Yes, hemp-derived Delta 9, along with other cannabinoids, are legal in Alabama. However, only persons aged 21 and above are allowed to purchase these products. Due to their legal status, you can buy Delta-9-THC online in Alabama.
However, should you be planning to visit another state, check that its laws permit hemp and/or hemp products. Most people wrongly presume that hemp is legal in all 50 states; this is NOT true. Idaho, for example, prohibits anything with Delta 9 in it. Other states prohibit smokable hemp products, and so on. 
Such subtle differences can mean landing in jail or having a pleasant cannabis experience. So, keep your eyes peeled for further regulatory developments in the hemp industry.
Where to Buy Delta-9 Gummies in Alabama 
Delta 9 and other cannabinoids derived from hemp are usually infused in edibles like gummies to make them easier to consume. Cannabis gummies have become popular among users due to their discreteness, ease of use, and convenience. 
So, look no further if you are searching for a reputable manufacturer of Delta 9 gummies. Dragon Hemp is a modern health and wellness brand developing custom-tailored hemp products. Its products are enriched with Chinese herbs and other healing botanicals to increase their effectiveness and safety.
Had a difficult day and direly need some quiet of mind? Try these ∆-9 THC Chill Gummies. They come in two strength levels (2.5mg and 5mg) and flavors (mojito and grapefruit) and are made with CBD hemp-derived Delta 9 blended with other naturally occurring cannabinoids like CBD, CBC, CBDV, and CBG. These delectable edibles also contain terpenes to produce a relaxing buzz that calms the mind and body. 
The high-dose gummies (5mg of THC) are designed to elevate mood for a euphoric experience. So, whatever your needs, these multipurpose gummies are the real deal!
Also, while you are still here, click on this link to check out Dragon Hemp's array of hemp products. We are confident there is something for everyone!
Feel like yourself again.
Peruse our collection of plant-based therapeutics blending time-honored herbal remedies with next-generation cannabinoid extracts.